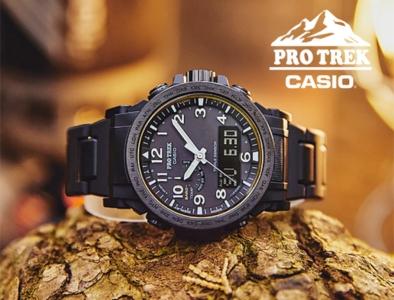 Casio - The iconic watch brand from Japan
Casio is one of the worlds most well known watch brands, famous for its groundbreaking innovative technology combined with stylish designs. The brand has several popular lines with styles for both men and women including G-shock, Edifice, Classic and Protrek. Are you on the lookout for a great watch that will be a solid investment, look no further than Casio!
At Watchia.com we are an authorized reseller of Casio watches, and because we only sell products from brands that have accepted us to be their official reseller; it is a guarantee that the product is genuine, comes with official warranties and with access to official service. You are always welcome to contact us about Casio for further information and guidance, because we know a lot about Casio's watches.
Groundbreaking lines from Casio
Are you interested in a Casio watch but in doubt about what kind of Casio watch is the best choice for you? Let us introduce you to some of the most popular lines from Casio to guide you in the right direction.
G-shock is considered the world's toughest watch, and because of this you are guaranteed a watch that is strong, durable, shock absorbent and water resistant. Combined with a versatile sporty design, the G-shock watch can be worn daily and for activities without you having to worry about damaging it. 
Historically the G-shock line is the result of the brands "Project Team Tough" that was begun in 1981 with the goal of creating 'the unbreakable watch'. It took two years and more than 200 prototypes before the first G-shock watch was launched. Today the brand still follows this dedication for achieving groundbreaking innovation, which guides the design of each new Casio G-shock model. 
Edifice is Casio's line of men's watches that combines smart functions with a masculine design. This means that an Edifice watch is as functional as it is stylish. Within the line you will find a broad selection of beautiful styles, on which the smart functions often include mulitlayered dials, world time, smartphone synchronization and more. Whether you are at the Office or on the sports field, an Edifice watch is the perfect companion.
Protrek is the ideal watch for the ultimate sports man! The line is expertly designed for the man who lives an active adventurous lifestyle, and who needs a watch that keeps up. Casio Protrek watches have unique and advanced functions, such as a digital compass, neo-display, altitude tracking, and resistance to extreme cold, perfect for enduring both speed, height and adventure. Whether you do traditional sports or is an extreme sportsman, no doubt you will find a match for you within the Protrek line. 
Classic is the name of Casio's classic stylish watch line. It features timeless models that year after year have survived the ever changing fashion trends. Sturdy solid craftsmanship combined with a classic or retro design at a great price makes this Casio line an ideal investment. Are you looking for a versatile watch that you can wear for many years to come, then you should definitely check out the Classic line from Casio. 
Casio women's watches
Among the popular Casio watch lines is a beautiful selection of classic, retro and sporty watches for women. Women's watches from Casio are proof that sublime technology and elegant design are compatible. Are you looking for a beautiful women's watch that is stylish as it is functional,  check out the selection of Casio Women's watches and unisex watches 
The Casio tradition
Casio was founded in 1946, at the time though the brand did not produce watches. The reason for this is that the founder of Casio, Tadao Kashio, was focused on producing other technology. He became the first ever to produce an electrically driven calculator. By developing electric technology the company grew and in 1957 the company began to produce watches too. Over the years and in particular during the 80'ies, watches became the prime focus for the company. Today Casio is famous for its digital watches and innovation. Click here to read more about the story of Casio.