Why shop at Watchia.com
Below you will find many reasons why you should shop with us
This is why you should choose us!
Fast delivery - If you purchase before 12:00 on a weekday, the watch will be sent the same day, or the next working day.
Official Stockist - We are an Official Stockist for all the brands found in our store.
365-day exchange policy - To make your purchase as safe as possible, there is an extended exchange and return period of 365 days. (unworn products, in n
Price guarantee - With our price guarantee, you can be sure that the price is always competitive. And we match the best price in Europe - before and up to 14 days after your order! See the conditions here.
All our watches are in stock - If it says that it is in stock, then it is in stock. This guarantees a fast delivery, and also helps us to answer any questions you may get related to a specific model.
Order Now, Pay Later - Get 14 days to pay with no interest or fees. Just select Pay later at the checkout.
Minimum 2 years warranty - There is a minimum 2-year warranty on all our watches. All orders come with a documented warranty certificate that you receive upon delivery.
Worlwide Delivery (USA, Canada, Switzerland, Australia, China, Monaco, Bosnia & Herzegovina & Israel) - We do ship to all EU countries and some countries outside of EU, you just have to make sure you have the USD selected in the top left. All prices are also shown in USD at this webshop version.


Who is Watchia.com?
Watchia.com is owned and operated by the Danish company Reverie ApS (2010). We are incorporated in Denmark and subject to EU legislation, which makes us obligated to ensure maximum consumer security when it comes to online shopping and data protection.
Please note that our authorization as an official stockist is usually given by the official Danish distributor or agent of a given brand to our Danish company. It means we buy from the official Danish distributor or agent and not necessarily from the official distributor in your local country or region. However, it doesn't limit or exclude any rights to you as a consumer within the EU. The European Union is committed to breaking down online barriers so that people may enjoy full access to all goods and services offered online by businesses in the EU. Therefore, As per EU legislation, all companies within the EU are required by law to "treat all EU consumers equally regardless of where they choose to shop from." Read more about the new EU rules on e-commerce here.
You should also note that all orders are packaged and shipped from our location in Denmark. Unlike many other shops, we carry almost all watches in stock and are ready to ship out your order the same day if ordered on a weekday before 15.00. In some cases, we will allow backorders on some highly sought-after models where we have a confirmed delivery date from our supplier. In those cases, it is displayed on the product page if the watch is in a backorder model, and the expected date of shipment is also listed.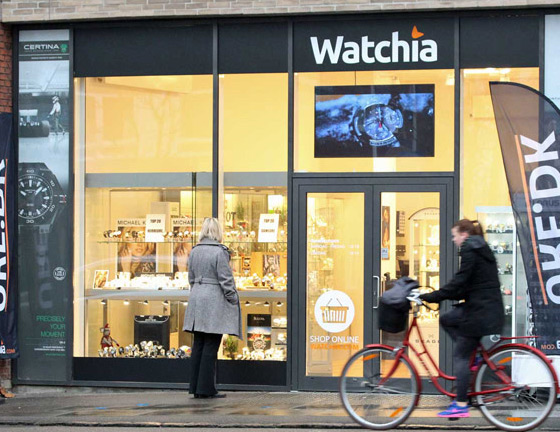 Our watch store in Copenhagen (Denmark) - opened in 2014
As you can see above, we have a physical watch store outside Copenhagen in Denmark. The address is Søborg Hovedgade 121, 2860 Søborg, Denmark.
Totally we have over five thousand models in stock at our warehouse and our store. As our store has limited space, only the most popular models are on display there.
If there is a specific model you want to see in our store, you can order the watch online with "pick up at our store" as the delivery method. Then you can see the watch, and exchange it directly if you're not 100% satisfied.
More about Watchia.com
Always authorized dealer - We have been appointed as an authorized dealer of all the famous brands that you can buy in our store.
English customer service - All our employees will respond quickly to your requests, and all of them handle English well, both spoken and written.
Secure Payment - We offer payment by creditcard, Paypal (no account needed), and Direct bank transfer through Trustly.