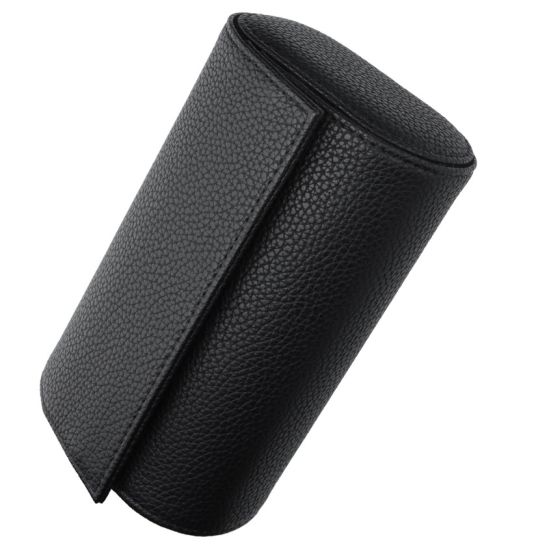 Falkenlund Watch Roll FWR-B2
In Stock
Shipped immediately on all weekdays when ordering before 15.00(CET)
This watch roll, made of artificial leather, is produced by the brand Falkenlund, and it belongs to the
collection. A "Watch Roll" is a smart and functional storage solution for people who travels a lot. It is easy to bring a watch roll and the watches won't scramble around in a box and they will look very stylish - and it is so easy to put it on and take it of, the watch roll. This model has room for 2 watches. External measurements are approximately 15 * 10 * 7 cm; the inner cushions are 61 mm wide, så even watches with bigger cases, can be stored here (the cushions are also lowered, to avoid that the bigger watches get touched by the lock-part). We are an authorized reseller of .
Product added to cart!
Delivery
Delivery info coming...
Specifications
Specifications

| | |
| --- | --- |
| Modelnumber | FWR-B2 |
| EAN | 5714064003932 |
| Brand | Falkenlund |
| Case color | Black |
Size Guide

How is the size of the watch measured?
The diameter
The common term is diameter, but since not all watches have circular watch cases, the diameter is actually the width measured from left to right. Note that some manufacturers include the crown (to set the clock) and the buttons when measuring the width, but we try to standardize all the watches by not including the crown as part of the measured width.



Case Thickness
The thickness - or height of the watch in profile - is indicated by measuring the watch from top to bottom as illustrated below. By comparison, a 1-euro coin is 2.33 millimeters thick.
One usually defines the watches with these numbers:
Slim: 4-6 millimeter
Normal: 6-12 millimeter
Big: 12-14 millimeter
Oversize: 14-18 millimeter