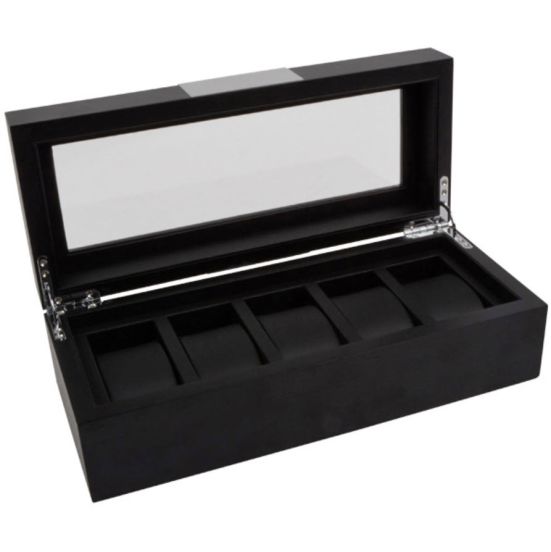 IHS 5 Pieces Wooden Watch Storage (€199 value)
Save 38%
Special Price
$133.75
Regular Price
$267.50
IHS
In Stock
Shipped immediately on all weekdays when ordering before 15.00(CET)
We have used our experience from both the industry and from our customers, and produced this storage box for watches, ourselves. It is an IHS-branded product, with IHS meaning "inhouse" - our own brand. This model is our version of a storage box, for watches, and we have used our experience, good quality and low price, to be able to offer you something that you want to buy and own. Click
IHS is a manufacturer of straps and bracelets to watches. Watchia.com is a reseller of IHS straps. There is no brand logo on the straps, which makes them a lot cheaper compared to original straps from different brands even though the quality of the strap is the same.
to see more of our high quality storage boxes. Up to 5 watches can fit here. Size is 31,3 cm (width) x 13,3 cm (depth) x 9,6 cm (height) and it is made out of wood. Each compartment is 8,2 x 4,5 cm (depth x width) and has artificial leather.
Product added to cart!
Product Description
Dimensions
315 x 133 x 96 mm
5 x (45 x 82 mm)
This product description is created specifically for Watchia.com and may not be copied (in whole or in parts)! Violation will therefore be met by demands of compensation.
Delivery
Delivery info coming...
Specifications
Specifications

| | |
| --- | --- |
| Modelnumber | IHSWB001 |
| EAN | 5714064002447 |
| Brand | IHS |
Size Guide

How is the size of the watch measured?
The diameter
The common term is diameter, but since not all watches have circular watch cases, the diameter is actually the width measured from left to right. Note that some manufacturers include the crown (to set the clock) and the buttons when measuring the width, but we try to standardize all the watches by not including the crown as part of the measured width.



Case Thickness
The thickness - or height of the watch in profile - is indicated by measuring the watch from top to bottom as illustrated below. By comparison, a 1-euro coin is 2.33 millimeters thick.
One usually defines the watches with these numbers:
Slim: 4-6 millimeter
Normal: 6-12 millimeter
Big: 12-14 millimeter
Oversize: 14-18 millimeter