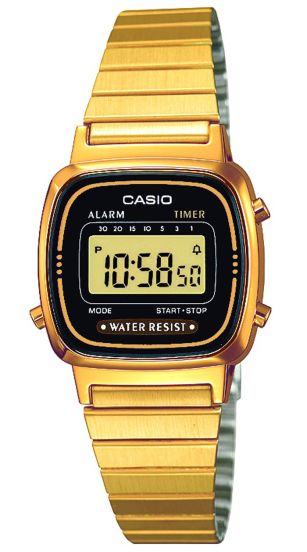 Casio Classic Retro Gold/Black LA670WEGA-1EF
In Stock
Shipped within 24 hours on weekdays
This watch is produced by Japanese Casio, and is from the
-collection, which consist of classic and retro watches. Watchia.com is appointed as an official reseller of . All watches sold on Watchia.com are genuine and comes with official and valid warranty.
Product added to cart!
Product Description
Stopwatch function - 1/100 sek. - 24 hours.
Preliminary time, split time and final time are measured down to 1/100 of a second's accuracy, and the measuring capacity is up to 24 hours.
7 programmed timersThe watch has 7 timers programmed, which is used for different kinds of sports. When these are activated, they will count down and when the time is up, an alarm will go off - and the timer repeats until deactivated. The max capacity is 30 minutes.
Daily alarm
The daily alarm uses an acoustic signal to remind you of repeating events.
Auto calendar
Corrects automatically for months/years with different lengths.
Stainless steel bracelet
Tough, durable and elegant; a bracelet made of stainless steel gives the watch a classic quality look.
Adjustable locking mechanism
The watch has an adjustable locking mechanism, that can be slid to the desired position on the bracelet. The position of the lock can easily be adjusted, and thus fit almost any wrist
.
Weight
27,8 gram
Delivery
Delivery info coming...
Specifications
Specifications

| | |
| --- | --- |
| Diameter | 25 mm |
| Case depth | 7 mm |
| Modelnumber | LA670WEGA-1EF |
| EAN | 4971850935124 |
| Brand | Casio |
| Gender | Women, Children |
| Strap type | Stainless steel |
| Strap width | 13 mm |
| Band length | 13-19 cm |
| Clasp Type | Sliding |
| Case material | Stainless steel |
| Case color | Gold |
| Color of dial | Black |
| Glass | Mineral |
| Water resistance | 3 atm (splashproof/rain) |
| Movement | Digital |
Size Guide

How is the size of the watch measured?
The diameter
The common term is diameter, but since not all watches have circular watch cases, the diameter is actually the width measured from left to right. Note that some manufacturers include the crown (to set the clock) and the buttons when measuring the width, but we try to standardize all the watches by not including the crown as part of the measured width.



Case Thickness
The thickness - or height of the watch in profile - is indicated by measuring the watch from top to bottom as illustrated below. By comparison, a 1-euro coin is 2.33 millimeters thick.
One usually defines the watches with these numbers:
Slim: 4-6 millimeter
Normal: 6-12 millimeter
Big: 12-14 millimeter
Oversize: 14-18 millimeter