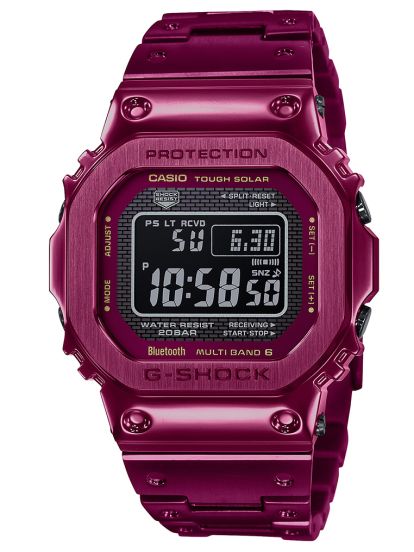 Casio G-Shock GMW-B5000RD-4ER
This watch is designed and produced by Japanese Casio, and is from their collection of extremely well-made sport watches, called: G-Shock.
Watchia.com is appointed as an official reseller of . All watches sold on Watchia.com are genuine and comes with official and valid warranty.
Product added to cart!
Product Description
This model has built-in Bluetooth technology, and is part of the
here
.
Radio signal receiver
Whether you are in Europe, North America, Central America, China or Japan, this watch can receive the appropriate radio signal to keep your watch "in time".
Energy level
The level of energy for this watch's battery is displayed on the dial/screen.
Solar Energy
A solar cell is the energy source for this watch.
Super illuminator
With the push of a button, the display lights up in a fashionable color.
Shock resistant
A so called shock resistant construction protects the watch against shocks and vibrations.
Neo-display
A luminous coating requires only a short-term exposure to light, to provide a long-term light effect in the dark.
Display of day and date
Current day and date is displayed on the dial/screen.
World clock
The largest cities in the world are pre-programmed in this watch, so you can select current city/town (closest to you, in the same time zone), and the watch automatically shows the correct time.
Stopwatch function - 1/100 sek. - 24 hours.
Preliminary time, split time and final time are measured down to 1/100 of a second's accuracy. The measuring capacity is up to 24 hours.
Stopwatch function - 1 sec. - 24 hours.
This watch can measure down to 1/100 of one second, with a capacity of up to 24 hours.
5 daily alarms
The alarms are using an acoustic signal that could remind you of repeating events at a set time. You can also set a time signal that indicates each full hour. This model has five independent alarms for flexible reminders of important appointments/events.
Snooze function
You can pause the alarm, and it will be reactivated after a few minutes.
Keyboard sounds on/off
The keyboard sound can be deactivated. This does not affect any other functions of the watch, like alarms, timers, reminders.
Safety mechanism
This watch has an extra safety mechanism, which prevents the lock from getting opened by accident.
Indicator for battery power
An indicator shows the current level of the battery.
Auto-calendar
The watch automatically adjust for different months different lengths, and for leap years.
Telephone finder
Through your watch, you can activate your smartphone - to make it sound. A fast and easy way to locate a hide-&-seek-playing cell phone.
Flight-mode
This watch can be set to "flight mode" = GPS (and some other functions) are turned off.
12/24-hour timing
The time can be specified either in a 12 hour (AM/PM) or in a 24 hour format.
Watchia.com is an authorized Premium reseller of . That means that the normal 2 years "right to reclaim" is extended to 3 years. We only sell genuine watches that comes with valid warranty and access to official service.
Stainless steel bracelet
Tough, durable and elegant; a bracelet made of stainless steel gives the watch a classic quality look.
Mineral crystal
This, very durable, mineral crystal has improved protection.
Water protection: 200 meter (20 bar)
This watch can be worn while swimming/snorkeling (near the surface). The value refers to the pressure in water, at that depth, while motionless... and should not be seen as the depth for wearing the watch..
Condensation - important!
Rapid changes in temperature can cause condensation inside the watch. If you notice moisture beneath the glass, you should immediately go to a watchmaker, who can open and dry the watch. Even if the signs of moisture disappears, by themselves... the moisture will not - and will eventually damage your watch - so, visit a professional and remove it permanently. Even waterproof watches are not protected against condensation, so keep that in mind if you plan to go from very hot to very cold temperatures - like from a hot sauna directly to the snow. If condensation occurs, it very rarely (if ever) depends on manufacturing, so if your watch is damaged by moisture, warranty will probably not cover it (it could be manufacturing issues, but... most likely it will be because of the rapid change of temperature = natural causes).
Size
This watch has a width of 44 mm (the dial, measured from left to right, with the crown excluded).
Even if some watches are not perfectly circle-shaped, we still use the term: diameter - and we only measure the case, completely ignoring the crown (even though some include it, in their measurements).
Case made of stainless steel.
Sizes
Does this watch fit your wrist? Wristwatches has gradually become larger in size, and a typical men's watch is usually between 40 and 45 mm wide. If you have a wrist that is noticeable larger/smaller, we recommend that you focus on the sizes in/outside the outer edges of the typical sizes. You are always welcome to contact our support, so we can share our experience with you.
This product description is created specifically for Watchia.com and may not be copied (in whole or in parts)! Violation will therefore be met by demands of compensation.
-collection, which makes it possible to connect the watch to your smartphone. Check more details for this model
Delivery
Delivery info coming...
Specifications
Specifications

| | |
| --- | --- |
| Diameter | 44 mm |
| Case depth | 13 mm |
| Modelnumber | GMW-B5000RD-4ER |
| EAN | 4549526279119 |
| Brand | Casio |
| Gender | Men |
| Strap type | Stainless steel |
| Strap color | Champagne |
| Band length | 14-22 cm |
| Link type on strap | Pin Links |
| Clasp Type | Deployment clasp |
| Case material | Stainless steel |
| Case color | Champagne |
| Color of dial | Black |
| Glass | Mineral |
| Water resistance | 20 atm (snorkling) |
| Movement | Digital |
Size Guide

How is the size of the watch measured?
The diameter
The common term is diameter, but since not all watches have circular watch cases, the diameter is actually the width measured from left to right. Note that some manufacturers include the crown (to set the clock) and the buttons when measuring the width, but we try to standardize all the watches by not including the crown as part of the measured width.



Case Thickness
The thickness - or height of the watch in profile - is indicated by measuring the watch from top to bottom as illustrated below. By comparison, a 1-euro coin is 2.33 millimeters thick.
One usually defines the watches with these numbers:
Slim: 4-6 millimeter
Normal: 6-12 millimeter
Big: 12-14 millimeter
Oversize: 14-18 millimeter