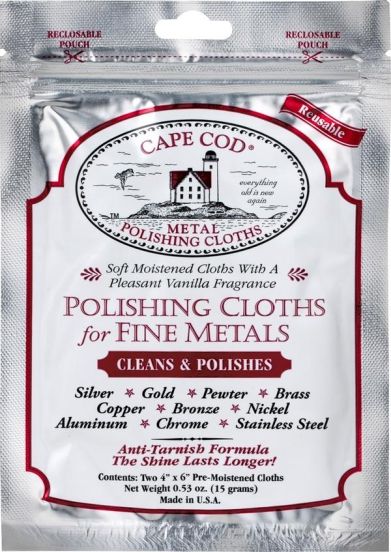 Cape Cod Polishing Cloth + Buffing Cloth
In Stock
Shipped immediately on all weekdays when ordering before 14.00
Cape Cod is the most famous brand for polishing and maintenance, among the watch enthusiasts in the world. It is used for removing superficial scratches on metal, and for giving a nice polish to bracelets and cases. This bag contains 2 clothes, and you can close the bag - to prevent the cloths from dry out.

EXTRA: You also receive one after-polishing cloth that can be washed and reused again and again. Watchia.com is an authorized reseller of products from .
Product added to cart!
Product Description
Polishing metal
The Cape Cod cloths can polish almost all kind of metal, removing superficial scratches and giving a fresh look to the surface. BUT, use it only on smooth surfaces, because it will smooth surfaces that aren't supposed to be smooth... and you shouldn't use it on glass. There are 2 cloths in the bag, and they come with the polish already added. 10*15 cm isn't needed for watches, so you could cut the cloths in smaller pieces, reusing them over and over again. When using, they will get dark... maybe even black, and that is a sign that they are working. Even if they are black - you can still reuse them on other metal products.
Reusable
The cloths can be resused over and over again, as long as you keep them in a sealed bag when not used - otherwise they will dry out.
Polishing cloth of micro fiber
After you have put Cape Cod's polish on the metal, use this for polishing and cleaning. It gives a beautiful polish, and the cloth can be washed and reused, over and over again.
This product description is created specifically for Watchia.com and may not be copied (in whole or in parts)! Violation will therefore be met by demands of compensation.
Delivery
Delivery info coming...
Specifications
Specifications

| | |
| --- | --- |
| Modelnumber | 8821-1 |
| EAN | 746969888210 |
| Brand | Cape Cod |
Size Guide

How is the size of the watch measured?
The diameter
The common term is diameter, but since not all watches have circular watch cases, the diameter is actually the width measured from left to right. Note that some manufacturers include the crown (to set the clock) and the buttons when measuring the width, but we try to standardize all the watches by not including the crown as part of the measured width.



Case Thickness
The thickness - or height of the watch in profile - is indicated by measuring the watch from top to bottom as illustrated below. By comparison, a 1-euro coin is 2.33 millimeters thick.
One usually defines the watches with these numbers:
Slim: 4-6 millimeter
Normal: 6-12 millimeter
Big: 12-14 millimeter
Oversize: 14-18 millimeter