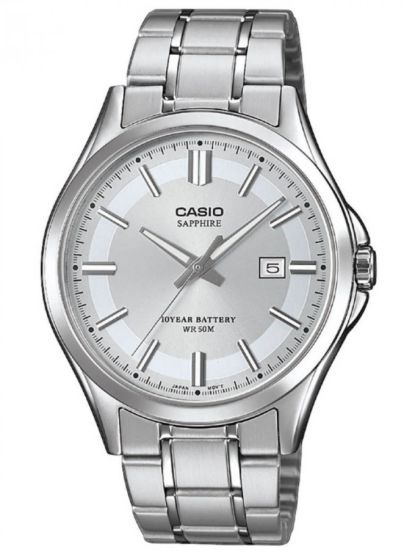 Casio Classic MTS-100D-7AVEF
This watch is produced by Japanese Casio, and is from the
-collection, which consist of classic and retro watches. Watchia.com is appointed as an official reseller of . All watches sold on Watchia.com are genuine and comes with official and valid warranty.
Details
Official reseller
We are an official reseller of all brand's watches that we sell. That equals to: genuine watches with valid warranty and access to official service.
Date display
The date is shown on the display.
Luminous layer
A luminous layer provides a long-term lightning effect in the dark. It requires only a short-term exposure to light. Usually the pointers, and sometimes the hour markers are coated with this.
This product description is created specifically for Watchia.com and may not be copied (in whole or in parts)! Violation will therefore be met by demands of compensation.
Delivery
Delivery info coming...
Specifications
Specifications

| | |
| --- | --- |
| Case color | Silver |
| Strap type | Stainless steel |
| Link type on strap | T-bar links |
| Strap color | Silver |
| Band length | 14-22 |
| Color of dial | Silver |
| Glass | Sapphire |
| Movement | Quartz |
| Date display | Yes |
| Water resistance | 5 atm (splashproof/rain) |
| Case depth | 8 |
| Diameter | 41 |
| Case material | Stainless steel |
| Clasp Type | Deployment clasp |
| Gender | Men |
Size Guide

How is the size of the watch measured?
The diameter
The common term is diameter, but since not all watches have circular watch cases, the diameter is actually the width measured from left to right. Note that some manufacturers include the crown (to set the clock) and the buttons when measuring the width, but we try to standardize all the watches by not including the crown as part of the measured width.



Case Thickness
The thickness - or height of the watch in profile - is indicated by measuring the watch from top to bottom as illustrated below. By comparison, a 1-euro coin is 2.33 millimeters thick.
One usually defines the watches with these numbers:
Slim: 4-6 millimeter
Normal: 6-12 millimeter
Big: 12-14 millimeter
Oversize: 14-18 millimeter
Other products you might like?