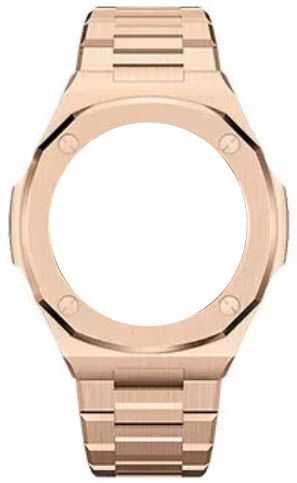 Unofficial Gen 4.2 Mod for CasiOak GA-2100 - Rosegolden Steel Case | Rosegolden Steel Bezel With Screws | Rosegolden Steel Bracelet
In Stock
Shipped immediately on all weekdays when ordering before 14.00
This mod (steel case + bracelet) gives you the opportunity to style your CasiOak-watch (a watch from Casio's popular GA-2100 collection). It fits perfectly the two popular variants:

Note that you are buying a mod, consisting of only case and bracelet (and necessary tools). Watch is bought separately!



*IMPORTANT!: This is NOT a Casio product, and Casio is not responsible in any way, for this.*
and , but also for other GA-2100-variants. Use the search box (at the top) to see all variants.
Product added to cart!
Product Description
Stainless steel bracelet
Tough, durable and elegant; a bracelet made of stainless steel gives the watch a classic quality look.
Case made of stainless steel.
Sizes
Does this watch fit your wrist? Wristwatches has gradually become larger in size, and a typical men's watch is usually between 40 and 45 mm wide. If you have a wrist that is noticeable larger/smaller, we recommend that you focus on the sizes in/outside the outer edges of the typical sizes. You are always welcome to contact our support, so we can share our experience with you.
This product description is created specifically for Watchia.com and may not be copied (in whole or in parts)! Violation will therefore be met by demands of compensation.
Delivery
Delivery info coming...
Specifications
Specifications

| | |
| --- | --- |
| Modelnumber | T26-X-RG |
| EAN | 3514455452484 |
| Brand | Casio Mods |
| Gender | Men |
| Strap type | Stainless steel |
| Strap color | Rosegold |
| Band length | 14-23 cm |
| Link type on strap | Pin Links |
| Clasp Type | Butterfly |
| Case material | Stainless steel |
| Case color | Rosegold |
Size Guide

How is the size of the watch measured?
The diameter
The common term is diameter, but since not all watches have circular watch cases, the diameter is actually the width measured from left to right. Note that some manufacturers include the crown (to set the clock) and the buttons when measuring the width, but we try to standardize all the watches by not including the crown as part of the measured width.



Case Thickness
The thickness - or height of the watch in profile - is indicated by measuring the watch from top to bottom as illustrated below. By comparison, a 1-euro coin is 2.33 millimeters thick.
One usually defines the watches with these numbers:
Slim: 4-6 millimeter
Normal: 6-12 millimeter
Big: 12-14 millimeter
Oversize: 14-18 millimeter